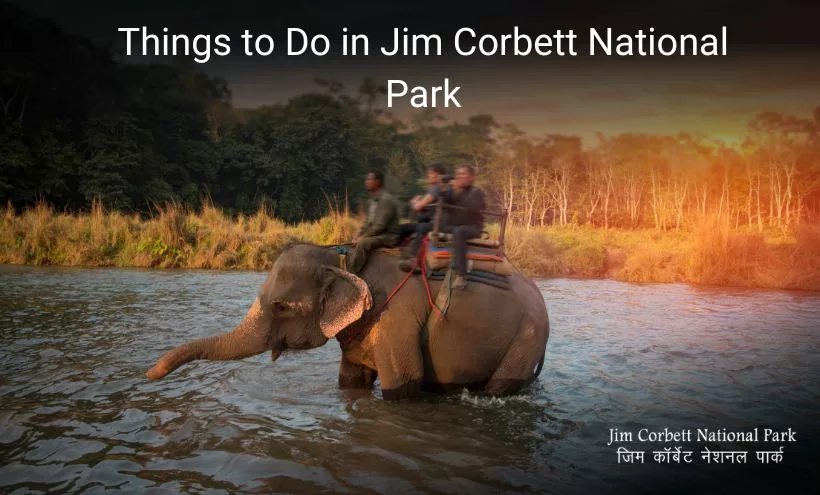 Things to Do in Jim Corbett National Park That Will Make Your Trip Extraordinary
The oldest national park is Jim Corbett National Park, located in Uttarakhand's Nainital district amid the foothills of the Himalayas. Corbett National Park, a section of the larger Corbett Tiger Reserve, is famous for housing the critically endangered Bengal tiger. There are a number of Jim Corbett national park hotels located on the riverside and is well known for its wildlife safaris. It is a haven for bird watchers, with over 650 different species of migratory and rare birds calling it home.
Dhikala, a forest lodge known for its breathtaking location and diverse wildlife is the most well-known attraction in Corbett National Park. A day is limited to 180 vehicles entering the national park. From July through October, the monsoon season, Jim Corbett is closed. Jhirna, Dhela, and Sitabani, however, are year-round tourist destinations.
There are two shifts of forest officials who organise Jim Corbett tiger safari in each zone. Jim Corbett, a well-known hunter and naturalist, is honoured with the creation of the Jim Corbett National Park, which was originally known as Hailey National Park. When Project Tiger was first introduced there in 1973, it was. Five zones—Bijrani, Dhikala, Jhirna, Domunda, and Sonanandi—total more than 500 square kilometres and are divided into the park to encourage tourism.
Jungle Safari
The Jim Corbett National Park offers morning and evening jungle safaris. Each of the five tourism zones has a cap on the maximum number of vehicles that can enter at any given time. Jim Corbett National Park offers Jeep Safaris and Canter Safaris, two different kinds of safaris.
Only the Dhikala zone, the park's central region, can access the Canter Safari. Here, there is a higher chance of seeing the fabled Bengal tiger. In addition to the canter safari, only guests staying at the forest lodge in the Dhikala zone are allowed to take a jeep safari to explore the area.
Corbett Waterfall
In Kaladhungi, 25 kilometres from Ramnagar, there is a stunning waterfall called Corbett Falls. This 66-foot-high waterfall is a sight to behold, especially on full-moon nights. It is surrounded by dense forests and offers a very peaceful environment. Near this waterfall, many campers and picnickers come. Corbett Waterfalls are accessible via a short (2 km) hike.
The Jim Corbett National Park offers river rafting.
One of the most romantic ways to experience the Kosi River's swift waters and Class II and III rapids is by river rafting in Corbett National Park. All skill levels are welcome to participate in this activity. Only the monsoon season allows for river rafting in Jim Corbett. In the Koshi River, July through September are the ideal months for river rafting. The River also hosts other water-based adventure activities like fishing, angling, and rappelling.
Dhikala
In Jim Corbett National Park, the Dhikala Forest Lodge is the top tourist destination. Famous wildlife sightings there include the Bengal tiger, spotted deer, Dhikala Chair, and the endangered hog deer. From 15 November to 15 June, tourists can visit Dhikala, which is 30 km inside the Dhangari gate. The only tourist area that offers canter safaris is Dhikala.
The Dhikala Forest Lodge has six distinct wings with a total of 32 rooms and 12 bunk beds spread across two dormitories; you can also go for Jim Corbett national park hotels. Jim Corbett does not allow alcohol or non-vegetarian food.
The Durga Devi Zone
The Jim Corbett tiger safari through the rugged, hilly terrain of Jim Corbett's Durga Devi Zone is legendary. A favourite of bird watchers, the enchanting zone also contains a variety of exotic birds in addition to local flora and fauna. There are also wild elephants, spotted and barking deer, sambar, jackals, and black-faced monkeys to be seen in this area.
Bird Observation
Along with a variety of animals and lush vegetation, the Jim Corbett National Park in Uttarakhand is also home to a huge number of birds. It is a great location for bird watching and photographing the various species of birds that can be found there, many of which are rare and endangered. Corbett National Park is known for being home to 600 different species of birds, making it a haven for ornithologists, environmentalists, and nature lovers.
To give visitors a chance to see birds and other animals, We arrange Jim Corbett bird-watching tour that is included in Jim Corbett packages. In addition, there are 6 main trails that visitors can explore in order to see birds; various bird species can be seen on different trails.
Jim Corbett National Park Elephant Safari
In addition to the jeep and canter safari, Jim Corbett also offers an elephant safari. One could go up to the park's perimeter during the day or in the late afternoon and see tigers, elephants, and other animals and birds while being supervised by an elephant handler.

The elephant keepers frequently share interesting facts about the area and the elephant with visitors, and they also let them be fed! Sunscreen must be worn, and a camera is a must if you want to take pictures.
The Garjiya Temple, Jim Corbett National Park
The Garjiya Devi Temple, which honours one of Goddess Parvati's incarnations, is situated in the middle of the Kosi River on top of a sizable rock. It is one of the most renowned temples in the area and is situated 13 km from Ramnagar. Baba Bhairon, Lord Shiva, Lord Ganesha and Goddess Saraswati are among the other gods who call it home. Lakshmi Narayan is depicted in a black granite statue inside the temple that dates to the ninth century.


On Karthik Poornima, the 15th day of the Hindu month of Karthik (November–December), a sizable fair is held in the temple. Except during the monsoon season when the Kosi River dangerously swells, it is accessible to tourists all year long.
Conclusion
It is one of India's oldest and most esteemed National Parks. Previously known as Hailey National Park. One of the top tourist destinations in Uttarakhand is Jim Corbett National Park, which is home to a variety of plant and animal species.
Are you considering visiting Jim Corbett National Park and looking for fun activities to do there with your loved ones? The exciting Jim Corbett National Park activities we've compiled above will make your trip wonderful and unforgettable. you can contact Corbett tiger reserve who can plan a wonderful trip for you