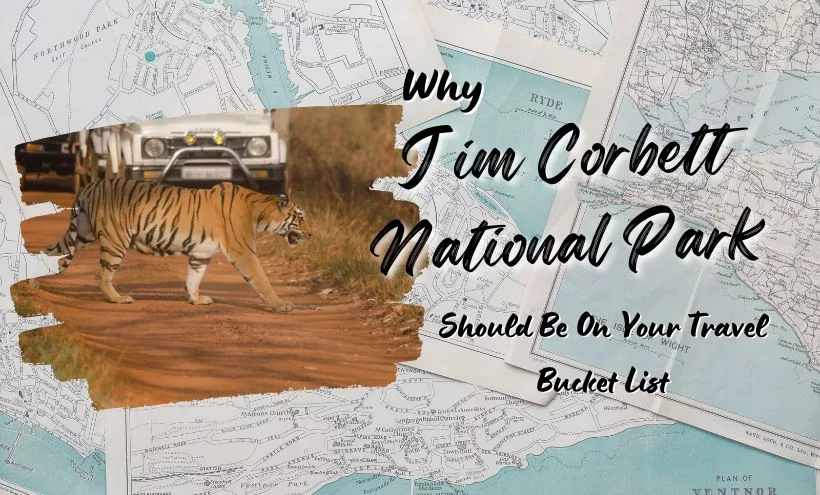 10 Reasons Why Jim Corbett National Park Should Be On Your Travel Bucket List
You'll be able to tell how far you've traveled from the bustle of the city by looking out the window of your hotel room. You are indeed in the perfect location, surrounded by Jim Corbett National Park's unbridled bliss. Take a deep breath, look out for the Jim Corbett packages, and prepare for an exciting trip; Corbett is your best bet for wildlife and lush surroundings.
In addition, Uttarakhand tourism is increasingly dependent on the region where tigers rule. The National Park is brimming with things to do and enjoy on the other days. bird lovers should visit Jim Corbett Park, which is a paradise. Similarly, there are many activities to try, including river rafting, river crossing, etc., for all adventure seekers out there. The lush jungle is home to a variety of bird species and other incredible wildlife.
Keep reading to know more about the wonders of the oldest national park (Jim Corbett National Park)
1. Experience India's Oldest National Park
One of the first wildlife refuges in the nation, Jim Corbett National Park was founded in 1936 and is situated in the Uttarakhand province's Nainital district. It bears the name of Edward James Corbett, also known as Jim Corbett, who was instrumental in its establishment. The project's main objective was to safeguard the Bengal tiger, an animal that is indigenous to India.
2. Encounter Incredible Wildlife

The wildlife in Jim Corbett, which is renowned for having amazing wildlife like Royal Bengal Tigers, Wild Elephants, and Wild Boars, must not be missed. One can explore the beasts and their wild habitats there. Since they must have seen these animals in the zoo in the past, the children will undoubtedly be excited to see them in the wild on their own.
An unparalleled sight is to see a majestic, powerful tiger in its natural environment. Only a few locations in India, including Jim Corbett, offer the chance to witness this magnificent animal in all its splendour. This initiative, known as Project Tiger, was started by the Indian government to safeguard this threatened species.
3. Take a Thrilling Safari Adventure
Especially during the monsoon season, a Jim Corbett safari booking is one of the best experiences to have. Additionally, it is one of the safest ways to explore every inch of Jim Corbett. Visit Jim Corbett at least once in your life if you love animals and photography. travellers can experience incredible open-air jeep safari through the tangled jungles.

If you're lucky, you might see some animal species, such as tigers, blackbuck, red fox, etc. Keep in mind that only a limited number of the Park's zones are open to visitors; other areas are designated as protected habitats only for the local wildlife.
4. Enjoy the Scenic Beauty of the Himalayan Foothills
The focus of this park goes beyond wildlife. Awe-inspiring views of the Himalayan foothills are also provided, which are breathtaking. At the foot of the Himalayas are a group of low mountains known as the Himalayan foothills. The landscape of these hills is mesmerising, with thick forests, cascading waterfalls, and meandering rivers covering them.
Doing a Jim Corbett safari booking is one of the best ways to take in the scenic beauty of Jim Corbett's Himalayan foothills. A number of vantage points that provide breathtaking views of the hills and valleys can be found as you move through the forest.
5. Learn About Conservation Efforts in Action
The Project Tiger initiative in Jim Corbett National Park seeks to preserve and boost the number of tigers in India. It is one of the park's main conservation programs. Anti-poaching security forces, ecosystem restoration, and community outreach are some of the safeguards the park has successfully put in place to protect the tiger population.
The park also runs a number of other conservation programs to safeguard endangered species like birds, crocodiles, and elephants. Through engaging exhibits, enlightening signs, and educational programs the park offers, visitors can learn more about these initiatives.
6. Immerse Yourself in Local Culture and Traditions
When you visit Jim Corbett National Park, you should immerse yourself in the regional culture and traditions as well as nature and wildlife. The park is situated in Uttarakhand's Nainital district, which is renowned for its extensive cultural history and traditions. In order to get a glimpse of the locals' way of life, visitors can wander around the nearby villages and engage with them.
Additionally, a number of festivals and fairs that are held in the area throughout the year give visitors a chance to get a firsthand look at the culture and traditions of the community. Experiencing local culture and traditions firsthand at Jim Corbett National Park can be a fulfilling and enriching endeavor that enables you to develop a closer bond with the area.
7. Indulge in Delicious Food and Drinks
The Jim Corbett National Park is not only a retreat for nature and adventure enthusiasts but also a perfect place for foodies. The area is well known for its delicious food, which includes traditional dishes prepared with ingredients and spices that can be found nearby.
Visitors can savor a variety of delectable foods, including gulgula, pahadi dal, bhatt ki chudkani, and kumaoni raita, to name a few. The Jim Corbett package provides a variety of worldwide cuisine choices, including Chinese, Italian, and continental, in addition to local fare.
8. Stay at Luxurious Resorts and Lodges
A variety of opulent Jim Corbett national park hotels that offer a comfortable and unwinding stay amidst nature are available in Jim Corbett National Park like Dhikala Forest Lodge Jim Corbett National Park. These lodgings are created to provide visitors with an immersive understanding of the area's natural beauty and wildlife. The resorts and lodges are furnished with all contemporary conveniences, such as swimming pools, spa services, and multi-cuisine dining establishments, ensuring that visitors have an opulent and comfortable stay. The breathtaking views of the jungle and the foothills of the Himalayas that many of these accommodations offer to make for an unforgettable experience.
9. Engage in Outdoor Activities and Adventures
For those who enjoy outdoor activities and adventure, Jim Corbett National Park is a paradise. The park provides a variety of outdoor pursuits and activities to suit all interests and abilities. Safaris through the jungle, hiking, camping, river rafting, and mountain biking are just a few of the activities available to visitors. Visitors have the chance to experience the area's natural beauty through these activities and interact with the local wildlife. Additionally, a number of adventure sports providers provide specially designed Jim Corbett packages that address particular interests, ensuring that visitors can partake in their preferred activities in the park.
10. Create Lifelong Memories with Friends and Family
The Jim Corbett National Park is the perfect place for groups of friends and family to make cherished memories together. To ensure that everyone can find something they enjoy, the park offers a variety of experiences and Jim Corbett packages that are catered to various age groups and interests. Visitors can make priceless memorable moments with their friends and family while enjoying delicious food and beverages. Overall, Jim Corbett National Park is an excellent choice for groups of friends and families looking to have fun and make lifelong memories.
Conclusion
For a number of reasons, Jim Corbett National Park ought to be high on your list of places to visit. It is difficult to find a place that offers the unique combination of natural beauty, wildlife, adventure, and culture that the park does. The park has something to offer everyone, whether they prefer to participate in outdoor activities and adventures or immerse themselves in the customs and culture of the area.
Additionally, the opulent lodges and Corbett Tiger Reserve offer a cosy and unwinding stay in the midst of nature. Anyone who wants to commune with nature, experience the great outdoors, and make lifelong memories with friends and family should visit Jim Corbett National Park.