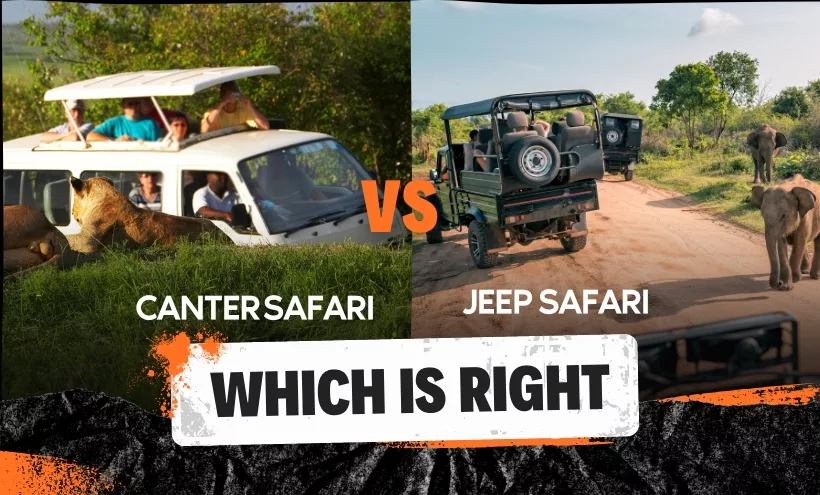 Dhikala Canter Safari VS Jeep Safari: Which is Right for You?
What is a Dhikala Canter Safari and How Does it Differ from a Jeep Safari?
The best and most impressive safari area in Jim Corbett National Park is named Dhikala, and the Dhangari gate serves as its entrance. The Dhikala Canter Safari Zone is an ideal location where visitors can relax completely in the presence of nature.
Tourists can find a lush area in Dhikala with a breathtaking view of the complete wildlife population entering its wild state. In the Jim Corbett National Park, there is a tourist area called Dhikala where the only sounds are the sweet chirping of birds and the natural, rich fragrance of the vegetation.
When staying outside of the Corbett Tiger Reserve, the Dhikala Canter Safari is the best method to explore the forest, as daytime gypsy tours are not allowed in the Dhikala zone.
However, there is a canter that departs from Ramnagar in the morning and the afternoon that can carry up to 18 passengers to get you to this region. The same afternoon canter that left for Dhikala in the morning will return to the camp in the evening. These excursions are referred to as Ramganga-conducted trips and are authorized by the Corbett Tiger Reserve.
The Pros and Cons of a Dhikala Canter Safari –

Pro:
1. Spot Variety Of Wildlife: The Dhikala Canter Safari represents one of the best methods to see wildlife in its natural habitat. Tigers, elephants, deer, and birds might all be seen in their native habitats.
2. Environmental Education: You can learn about conservation efforts as well as the significance of maintaining natural habitats during the safari.
3. Economical: Dhikala Canter is just less expensive than others. You could afford it very easily.
Con:
1. Crowded: During busy tourist seasons, the Dhikala Canter Safari can become crowded. This may reduce your odds of seeing wildlife because animals may avoid crowded areas
2. Unpredictable: Wildlife sightings cannot be assured, and the likelihood of seeing animals varies
3. Weather Condition: The weather will be equipped with an impact on the safari. The safari may be considered postponed during the monsoon season or other severe weather events.
Pros and Cons of Jeep Safari –

Pros:
1. Accessibility: Jeep safaris in Jim Corbett let visitors enter harsh, off-the-beaten-path locations that are challenging to get on foot or by other methods of transportation.
2. Wildlife sightings: Jeep safaris provide a rare opportunity to observe animals up close and in its natural setting.
3. Adventure: For thrill-seekers and outdoor aficionados, Jeep safaris are frequently high-adrenaline activities.
Cons:
1. Impact on Environment: Jeep safaris could have an adverse effect on the environment by causing soil erosion, the eradication of vegetation, and the disturbance of wildlife.
2. Safety Issues: Off-road driving with such a jeep can indeed be dangerous, especially in uncharted territory in severe weather.
3. Cost: Jeep safaris can be pricey, especially in comparison to other outdoor activities.
Wildlife Viewing Opportunities: How They Differ On a Dhikala Canter Safari vs a Jeep Safari
There are two distinct methods to experience the wildlife and natural world in the Dhikala zone of the Jim Corbett National Park in India: Dhikala Canter Safari and Jeep Safari in Corbett. The major variations between the two are as follows:
1. Vehicle Type: The primary distinction between the two safaris is the sort of vehicle used. Dhikala Canter Safari is done in a large open-air bus known as a canter, which can seat up to 16 people. Corbett Jeep Safari, on the other hand, employs a smaller, confined jeep that's able to seat up to six people.
2. Viewing Experience: Due to the fact that the Dhikala Canter Safari is done in an open-air bus, passengers get a panoramic view of the surroundings when the experience is more akin to a group trip. Jeep Safari in Corbett, on the other hand, offers a more intimate and personalized viewing experience because the vehicle can travel through the narrower and more rugged territory, enabling passengers to be closer to the wildlife.
3. Timing: Dhikala Canter Safari typically begins early in the morning and lasts about 4 hours, whereas Corbett Jeep Safari can be done in the morning or evening and lasts about 3 hours.
4. Cost: Dhikala Canter Safari is usually less expensive than Jeep Safari in Corbett because the former has become a more cost-effective option.
Environmental Impact: Which Safari is More Eco-Friendly?
It's tough to make a distinction between the Corbett Jeep Safari and the Dhikala Canter Forest in terms of environmental effects. However, since they are bigger and can transport more people, canter safaris generally tend to prove more environmentally friendly than jeep safaris because fewer vehicles are entering the forest
Canter safaris have a smaller carbon effect than jeep safaris as well as are less likely to harm the forest floor. To minimize their effects, both kinds of safaris should be done responsibly with careful consideration for the environment.
Cost Comparison: Is a Dhikala Canter Safari More Affordable Than a Jeep Safari?
A jeep safari in Corbett and a Dhikala Canter safari in Jim Corbett National Park can cost different amounts based on the time of year, access, and other elements. A Dhikala Canter safari, however, is typically less expensive than a jeep tour. This is so that a Canter can carry more passengers while paying less per individual. In addition, jeep safaris commonly incur extra costs including guide fees, park admission fees, and gasoline costs.
Choosing the Right Safari for You: Factors to Consider Before Making Your Decision
There are many things to think about when selecting a safari before making a choice. Some of the most significant ones are listed below:
1. Type Of Safari: Initially, you must decide the type of safari you want to experience.
2. Time Of Year: Peak seasons vary depending on where you go on an expedition. The weather and animal movements may have a big impact on your experience depending on where you are. Think about the season you are interested in going on safari in and do some study to find out what the weather will be like then.
3. Accommodation: Safari lodging options can vary from opulent lodges to straightforward tents. When selecting your accommodations, take your budget as well as your tastes into account. It's also crucial to think about where your lodgings are because some might provide a more immersive experience while others might be more isolated
4. Activities: From game drives to hot air balloon rides, safaris offer a broad variety of activities. Think about the things that are offered as part of your safari package and any optional extras. Remember that certain pursuits may have age or health requirements
5. Tour Company: A successful safari depends on picking the correct tour operator. To learn about various businesses as well as to find out about customer experiences, do some research and read evaluations. Select a business with a history of being successful, an excellent track record, and well-informed staff.
Conclusion
Dhikala Canter Safari and Jeep Safari both have their own pros and cons. It depends on your choice; you can choose any, depending on your choice. Corbett Tiger Reserve offers both services and prices; you can contact us to inquire about prices and other details.