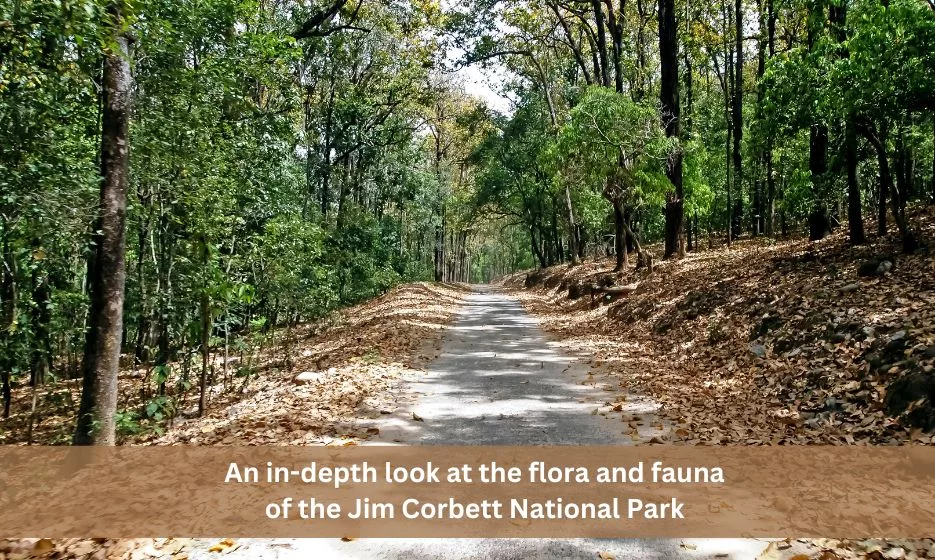 An in-depth look at the flora and fauna of the Jim Corbett National Park
Flora and Fauna: Each of Corbett's diverse habitat types, including the highlands, sal woods, chairs, khair-sissoo forests, and rivers, has its own unique assemblage of flora. In the Park, over 600 different species of trees, shrubs, herbs, bamboos, grasses, climbers, and ferns have been identified. The park, a popular ecotourism destination, has 488 distinct plant species and a wide range of wildlife. Along with other issues, the rise in visitor activity continues to pose a significant threat to the natural balance of the park.
1. About the Flora in jim corbett national park
The Jim Corbett National Park is blessed with a unique flora, including freshwater and alpine vegetation, that is a unique gift from nature. The Corbett boasts an astounding variety of flowers spread throughout a region of more than 521 square kilometres. The Sal woods, Khair-Sisso forests, mountains, Chaur, and rivers and streams in Corbett are the several habitat types that support their unique collection of flora. The Botanical Survey of India estimates that Corbett is home to 600 different types of trees, bushes, ferns, grass, climbers, herbs, and bamboo. Because of its extensive collection of unique plant species, the national park is a popular vacation spot for people looking to unwind following a busy year of work. The Jim Corbett National Park is one of the richest habitats for wild animals and is also rich in vegetation. Additionally, Sal woods make up more than 75% of the Corbett's overall area.
2. About the Fauna in jim corbett national park
The first Tiger Reserve established as part of the programme in India was Corbett National Park. Therefore, Corbett is among India's oldest and biggest national parks from that perspective. Numerous spectacular species, including the Asiatic Elephant and Royal Bengal Tiger, can be seen in abundance in the Park. Corbett is one of the best-preserved parks with 164 tigers and more than 600 elephants thanks to the current healthy wild population. According to a recent analysis, Corbett has the greatest density of tigers per square kilometre in the nation at 20.
In addition to the Royal Bengal Tiger, Corbett is also home to a sizable population of the extremely endangered Ghariyal and the endangered Asiatic elephant. The Asiatic Black Bear, Hog Deer, Walking Deer, Sambar, Sloth Beer, Yellow-throated marten, Otters, and numerous other mammal species are just a few of the other recognised mammal species that call Corbett home. Corbett is also home to a variety of aquatic life and birdlife, with about 600 different species total. These include the great pied hornbill, White-Backed Vulture, Hodgson's bushchat, orange-breasted green pigeon, Pallas fish eagle, golden oriole, tawny fish owl, Indian Pitta, Scarlet Minivet, and reptile-like, critically endangered Ghariyal, mugger Croco
3. Role of ecotourism in supporting the conservation of the park's flora and fauna
The category of sustainable tourism includes ecotourism. The primary reason poor nations are now embracing ecotourism and incorporating it into their economic development and conservation policies is because of its perceived promise as a viable instrument for sustainable development. Visits to natural areas are made as part of ecotourism, an alternative form of travel, with the goal of learning from, studying, or engaging in environmentally friendly activities. This form of travel is centred on nature and supports the social and economic growth of the communities where it takes place.
It places a strong emphasis on getting to know nature, including its environment, plants, wildlife, and habitats, as well as local cultural items. When this theory can be translated into suitable legislation, careful planning, and delicate application, a symbiotic and complicated interaction between the environment and tourism activities is conceivable. Carefully crafted ecotourism destinations can offer immediate advantages that may lessen the impact of other less sustainable uses of natural and cultural resources. This is especially true if they are village-based and involve local participation. Natural resources, cultural heritage, a rural way of life, and ecotourism are examples of local economic activities.
4. Impact of climate change on the park's flora and fauna and efforts to adapt and mitigate these impacts.
In order to thrive and fulfil their needs, such as food, water, and shelter, plants and animals must exist in particular climates. They may adjust to slight climatic changes, but they can still thrive. But the ecosystems of plants and animals have undergone tremendous alteration as a result of climate change. As academics and experts have previously observed, these changes may have an impact on the ecosystem as a whole.
In any case, how does climate change impact plants and animals? Because of climate change, certain plant and animal populations have already significantly declined. Other consequences might not be as dramatic right now, but they might put certain species in danger of going extinct. Additionally, animals that hibernate are emerging from their resting state earlier. With the shift in temperatures, birds are flying further north. Fish are beginning their spawning migration earlier now. All of these consequences of climate change may make it more challenging to survive, particularly for young plants and animals attempting to adapt to the climate.
Also Read: Know About the Best Safari Zones at Corbett National Park
5. The cultural significance of the park's flora and fauna to the local community
Preserves ecological harmony
Humans could not thrive without vegetation and animals. The oxygen that the flora produces and releases is essential for the fauna's ability to breathe. The flora needs carbon dioxide for photosynthesis, which the fauna creates and releases. It's a mutually beneficial connection.
It goes without saying that people adore and value nature. Because of its aesthetic appeal, many people like spending time in outdoor settings including woods, natural regions, parks, and other green spaces. Additionally, people enjoy visiting places with water like beaches, lakes, rivers, oceans, and many others since these places have very appealing aesthetic qualities, which are mostly brought about by the presence of flora and wildlife.
Boosts regional economies
The majority of the world's economies rely heavily on flora and fauna for tourism. Due to the abundance of flora and fauna, exotic holiday destinations like the Caribbean, Bahamas, Panama, Indonesia, and so on draw more tourists than any other nation.
Also Read: 8 Incredible Benefits That You Get Only on Booking a Guided Safari
Conclusion
For its abundant fauna and unmatched natural beauty, Jim Corbett National Park is well-known. More than 520 square kilometres make up the Park. It is astounding how many different kinds of flowers Corbett Park offers. There are roughly 110 different tree species, 51 different shrub species, 27 different climbers, and 33 different forms of bamboo and grass. Sal Shorea Robusta trees, which cover about 75% of the main region, are the most noticeable trees in Corbett.