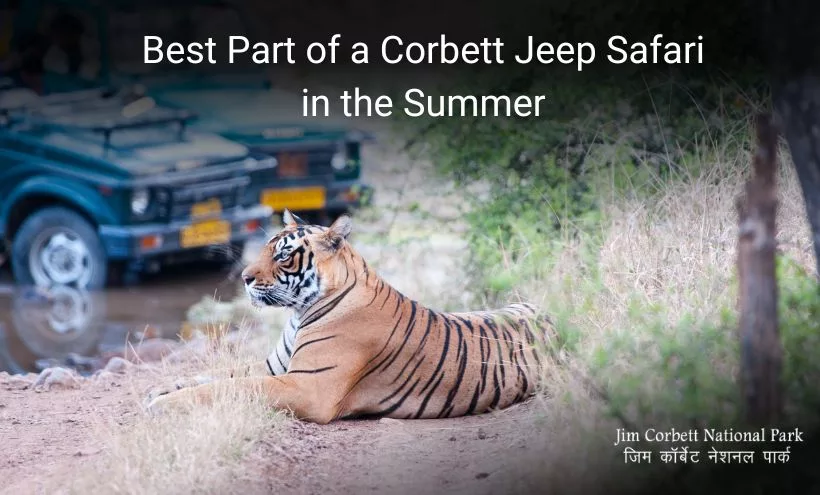 The Best Part of a Corbett Jeep Safari in the Summer
It is always advised to conduct adequate research before travelling to an uncharted location,
regardless of how fervently you may love wildlife or how quietly you may admire it. Your
wildlife tour will be memorable if you do your research on the ecology and other pertinent
information about the area, for a variety of reasons. Since Corbett National Park has a
unique climate and a varied landscape, it is advisable to plan ahead and decide what to look
for before visiting Corbett.
Even so, there are three seasons in Jim Corbett National Park worth visiting: winter,
summer, and monsoon. Here, a specific climate can be found that is excellent for adjusting
the seasons of natural life. This national park, which welcomes visitors all year long, is a
blessing for those who enjoy the outdoors. The beginning of Jim Corbett Park's summer season, which is deemed appropriate for safaris, is in March.
This month's weather is expected to be cool, and all of the park's gates are open for adventure activities like jungle safaris, elephant safaris, Jeep safaris in Corbett, and other safaris. Many kids' groups come here during the summer because of the break from school. From 20 °C to 40 °C, depending
on the season.
Jim Corbett's Best Season to Visit to enjoy the jeep safari
The park is open from the middle of November to the middle of June and has excellent weather. Here, the winters are wonderful, and a lot of birds migrate here at this time. The summers are extremely hot, with temperatures occasionally reaching 40 degrees. The Dhikala zone and Birjani zone of the park are completely washed away during the monsoon season, which is also very severe. Additionally, there are places close to Jim Corbett that you absolutely must see. In addition, you can take part in activities like the Jeep safari in jim Corbett. You can visit a variety of spiritual sites, including the Garjiya Devi temple.

Jeep Safari Information in Various Zones
The diverse area of Corbett National Park has a variety of features, making it necessary to explore it during the ideal period designated by the authority. Seasonal timing is assigned to various zones. The park typically opens at 5:30 in the morning and closes at 10:00 before opening again at 2:00 in the afternoon and closing at 6:00 in the evening. The visiting hours, however, may change depending on the time of year.
Entry Gate for the tourism zone
A jeep safari in Jim Corbett National Park seems worthwhile to explore the interiors of the various zones. Travellers can schedule their safaris in advance and finish their trip in a single day. In contrast, one must make reservations for a night's stay at the forest lodge inside the park if they wish to visit Dhikala. There are limits on the number of Jeeps that are permitted inside the park in order to preserve the ecological balance.
First-come, first-served policy governs jeep reservations. For the Jhirna, Bijrani, and Durgadevi zones, advance booking is possible. Remember that Jim Corbett tiger safari passes are only issued for a portion of the day at a time. There are additional fees for full-day passes. Only 48 hours in advance is required to reserve an evening safari. Bookings are subject to the principle of first-come, first-served.
It can be exciting to travel on the back of a mammoth animal while discovering the secret treasures of Corbett National Park. You will visit grassy land, deep valleys, dense forests, and rugged trails on the ride. In Dhikala, visitors can go on an elephant safari if they are staying at a forest lodge. However, in Bijrani, elephant rides are only permitted with advance reservations. The rides traverse the buffer zone and circle the park's core.
Even though the number of elephants available for the safari is limited in each zone, the first-come, first-served policy still applies. Elephant safaris are not scheduled on Mondays because it is an elephant rest day.
How to see more wildlife in Corbett: some helpful tips
In Corbett, there are countless options to explore, and if you only have a short amount of time, you risk missing some of the park's most alluring features.
Decide what you want to see or what interests you more in the beginning. It is possible to go on an elephant or Jeep safari in Corbett, go bird watching, see some wildlife, or take a leisurely walk.

● Once you've made your plans for this adventurous trip to Corbett, conduct the necessary research.
● To avoid the last-minute rush, travellers are advised to make their hotel reservations in advance.
● Wear only dark-coloured dresses like grey, matte brown, or dark green.
● Avoid wearing perfume because it contains chemicals that are toxic and can harm wildlife.
● Avoid bringing children under the age of 12 to the park. It frequently occurs that children become frightened when they see an animal's face, which can frighten the animals and cause havoc.
● Bring a high-definition camera and a comprehensive wildlife explorer guide with you. You might need to secure special permission in order to take pictures in certain zones.
● Once you're inside the park, adhere to your guide's instructions.
● Choose a package based on your needs after consulting with the top tour operators.
● Prepare your identification information and other pertinent certificates. To enter the park, you might need to present them.
● For both your safety and the safety of the wildlife, it is best to keep a safe distance from wild animals.
● It is preferable to sit comfortably inside the car you are in. This park is not a zoo, so you might run into an unpleasant situation at any time.
● Be prepared for minor accidents by carrying a first aid kit or some simple ointments.
● It is best to rise early in the morning and arrive at the location at your scheduled time in order to enjoy the best views of Corbett.
Conclusion
If first-timers are having trouble making hotel reservations in Corbett National Park, it is always advised that they speak with a tour expert. One might not know enough about how to extend their stay in a lodge. Another issue that first-time visitors to Corbett seem to have difficulty with is how to make a Jim Corbett tiger safari reservation there.
The level of restrictions imposed in the park might not be known to one, but it must be said here. You would, however, fall in love with this reserve forest's captivating beauty once you were inside. Pack your bags and travel to India's pride, Corbett National Park, this summer.