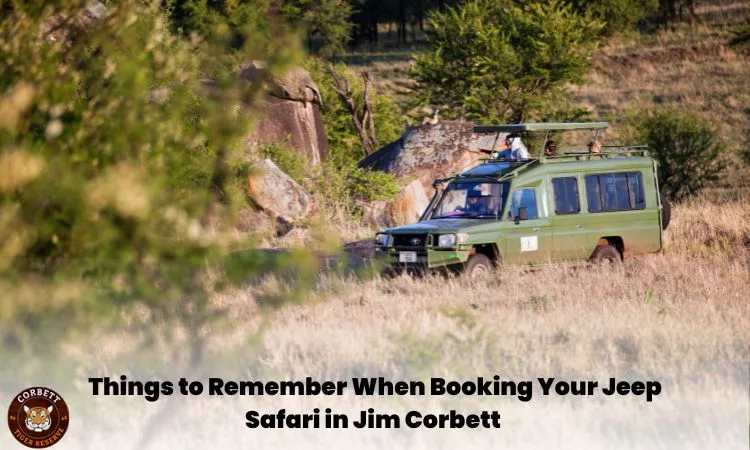 Things to Remember When Booking Your Jeep Safari in Jim Corbett National Park
A Jeep Safari is a terrific way to experience the wildlife as well as natural splendor of this beautiful park if you're planning a visit. However, there are definitely a few factors you should think about prior to preparing your safari that guarantees you have the most enjoyable time a possibility. In this article, we'll discuss the ideal time to visit, the various areas of the park, and what to expect on your Jim Corbett Tiger Safari. So, let's begin on your Jim Corbett National Park excursion.
Booking Procedure
You can book your Jeep Safari in Jim Corbett National Park online or in person at the park's headquarters. If you want to book Jim Corbett packages online, you can do so through the park's official website or a third-party travel company. Keep in your mind that booking online might require a paying a fee in advance, as well as the provision of private data like your name, address, as well as contact details.
If you want to book in person, you may go to the park's office as well as speak with the staff regarding your safari. This may require the submission of private data including your name, address, and proof of identification.
Jeep Capacity
A Jim Corbett Jeep Safari could take into account up to six people, including the driver as well as guide. It is especially important to note that the jeep's capacity must not be exceeded, as this could render it unsafe as well as can lead to being penalised.
Safari Timings
In Jim Corbett National Park, there are two Jeep safari slots available every day, morning and evening. The safari's timings could differ with respect to the season. During the summer, the morning slot starts about 5:30 AM and the evening session begins around 4:00 PM. In winter months, the morning slot begins at 6:30 AM whereas the evening session begins around 2:30 PM.
Safari Zones
For jeep safaris, Jim Corbett National Park is separated into five zones: Bijrani, Jhirna, Dhela, Durgadevi, and Corbett Landscape. Each zone has its own distinct flora and wildlife, and the safari experience may differ from one zone to the next. It is recommended that you to choose the zone according to your preferences plus the probable availability of safari slots.
Entry Fee
The cost of a Jim Corbett Tiger Safari varies depending on the zone. The entry charge, car cost, including guide price are all included in the fee. The fee for Indian natives is less than that of international nationals. It is important to bring cash considering the park authorities do not take debit or credit card payments.
ID Verification
When planning your jeep safari at Jim Corbett Tiger Safari , make sure you have a valid ID with you, such as a passport or driver's license. This is required to ensure security as well as to confirm your identity prior to accessing the park.
The Dress Code
It is imperative to dress appropriately whenever visiting Jim Corbett National Park. Wear lightweight, comfortable clothes that allows you to move freely. Bright colors might want to be avoided due to the fact that they may draw unwanted curiosity from animals. To protect your feet while walking on uneven terrain, make use of long-lasting shoes or boots with a high grip.
Restrictions
Before planning to have a Tiger Safari in Corbett Tiger Reserve, guests should be aware of the following restrictions. Visitors, for example, are not permitted to exit the jeep while the safari as well as must adhere to the specified paths. Furthermore, the park has set admission as well as departure times, thus visitors have to guarantee they're able to adhere to these times. Visitors are advised to refrain from bringing plastic bags or bottles into the park, as these could negatively impact the animals and even the ecosystem.
Cancellation Policy
Before scheduling a Corbett Tiger Reserve jeep tour, it is critical to understand the cancellation policy. Many tour operators and resorts have their own cancellation policies, and travelers ought to investigate the terms and conditions before making a reservation. Some operators may impose a fee for last-minute cancellations, whilst others may offer full refunds if cancellations are made well in advance. Whenever making a reservation, read the cancellation policy thoughtfully and ask any questions you may have.
Other Activities
Apart from jeep safaris, Jim Corbett National Park offers a variety of other activities. Nature walks, birdwatching, and camping are among them. Some companies also provide elephant safaris, which can be a thrilling as well as unique experience. Check with your safari operator about other activities they provide so that you may plan your itinerary properly.
Conclusion
Finally, a jeep safari in Corbett Tiger Reserve Park may prove a wonderful experience, however, keep these points in mind before planning your safari. You could make the most of your trip to this outstanding park by being aware of the restrictions, comprehending the cancellation policy, and exploring other activities.