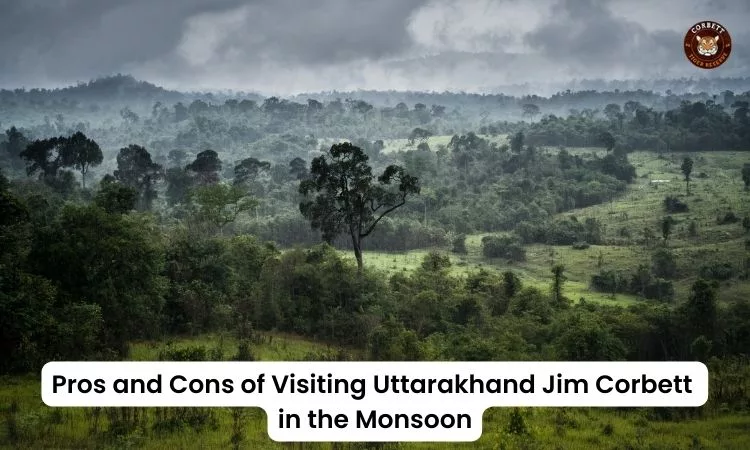 Pros and Cons of Visiting Uttarakhand Jim Corbett in the Monsoon
Corbett Tiger Reserve is a well-liked vacation spot renowned for its wildlife, beautiful scenery, and adventurous activities. The rainy season, which lasts from June to September, may still have a substantial impact on travel arrangements and the overall trip. Weighing the benefits and drawbacks of visiting the park in the rainy season is of the utmost importance in this situation.
On the one hand, the verdant landscape, gurgling rivers, plus sparse crowds might offer a singular and fascinating experience. On the other side, heavy rainfall, slick roads, and the possibility of landslides can be hazardous. To help you make a smart decision, we will go over the benefits as well as the drawbacks of visiting Jim Corbett National Park or Corbett Safari Booking during the monsoon season in this post.
Pros
Lush Greenery: The lush vegetation of Uttarakhand, Jim Corbett is one of its main advantages. The park's 520 square footprint is occupied by dense forests, meadows, and wetlands. The park is home to a wide range of flora and fauna, including more than 500 plant species, 50 species of mammals, 25 reptile species, and 580 bird species. The park's lush greenery gives it an inviting and serene atmosphere, which makes it perfect for hiking as well as nature hikes during the monsoon.
Low Crowd: The lack of crowds at Jim Corbett National Park or Corbett Tiger Reserve is yet another significant benefit to enjoy during the monsoon. The park is not stuffed to capacity because many people don't prefer monsoons, so tourists can enjoy the beauty of nature without getting bothered by people, and it is a must if you are adventurous enough to enjoy rain in the forest.
Waterfall Sightings: The park is renowned for seeing waterfalls as well. Corbett Falls, Kempty Falls, and Ramganga Falls are among the most prominent waterfalls in and around the park. These waterfalls seem breathtaking and also offer the ideal summer respite from the heat, but they become even more mind blowing during the monsoon. Beware of the danger and always listen to your guide. These waterfalls also provide visitors with the chance for water rafting and go swimming, if the water level, and rainfall are safe enough.
Wildlife Sightings: Last but not least, the wildlife sightings in Jim Corbett National Park are legendary. Several species of animals, such as tigers, leopards, elephants, deer, and wild boars, might be found in the park. To see these animals in their native habitat during the rain, is magnificent. Tourists may experience jeep safaris, including elephant safaris. Furthermore, the park possesses a number of watchtowers as well as machans from which guests may get a bird's-eye view of the park as well as spot wildlife.
Cons
Limited Access: The fact that visitors have limited access to Jim Corbett National Park's interior during the rainy season for their safety is one of its biggest disadvantages. Only a specific number of vehicles can be allowed to enter each of the park's different regions on any given day. This might stop visitors from seeing every part they want to see, which can be annoying for tourists who are interested in fully experiencing the park, but your safety is more important than your adventure.
Risk of Landslides: Landslides are a risk that comes with visiting Uttarakhand Jim Corbett, especially during the period of heavy rainfall. For tourists who are unfamiliar with the environment, the park's steep location as well as its susceptibility to landslides are potentially risky. But there are a lot of safety measures for tourists, so even if these circumstances occur, everybody is safe. We are telling you this so that you have complete knowledge of the challenges before you plan to make a Corbett Safari booking.
Mosquitoes: Another negative aspect of visiting the park is the presence of mosquitoes and other insects. Numerous species of insects and mosquitoes that can annoy visitors, particularly in the monsoon, can be observed in the park. Visitors should take precautions like applying mosquito repellent and wearing full-sleeved clothing when going out for safari because mosquitoes might propagate diseases like malaria and dengue. Within the walls of the resorts and lodges, you are pretty safe from the mosquitoes, but only if you choose a good operator.
Small health issues: Another potential disadvantage of visiting the park during the monsoon is an elevated risk of minor sickness. A cold, a cough, and minor rashes are some of them. From first aid to doctors, we have all medical health services, yet you ought to comply with precautions for your health and safety. And thus, it is very important that you do not bring old people, very small kids, or people with poor immunity, as their health concerns may spoil all your fun.
Conclusion
Visiting Corbett Tiger Reserve in Uttarakhand during the monsoon has both advantages and disadvantages. While the lush greenery, beautiful sightings of nature and wildlife, and lack of tourist crowds are certainly enjoyable, the risk of landslides, flooding, small health issues, and limited safari availability must also be considered. In the end, everything comes down to personal preferences and tolerance for weather fluctuations. And in any case, listening to your guide is extremely important. So if you are young, a nature lover, and a monsoon lover, then visiting Jim Corbett National Park during the monsoon is a wonderful option for you. And for a good tour package and amazing services, Corbett Tiger Reserve is always there for you.