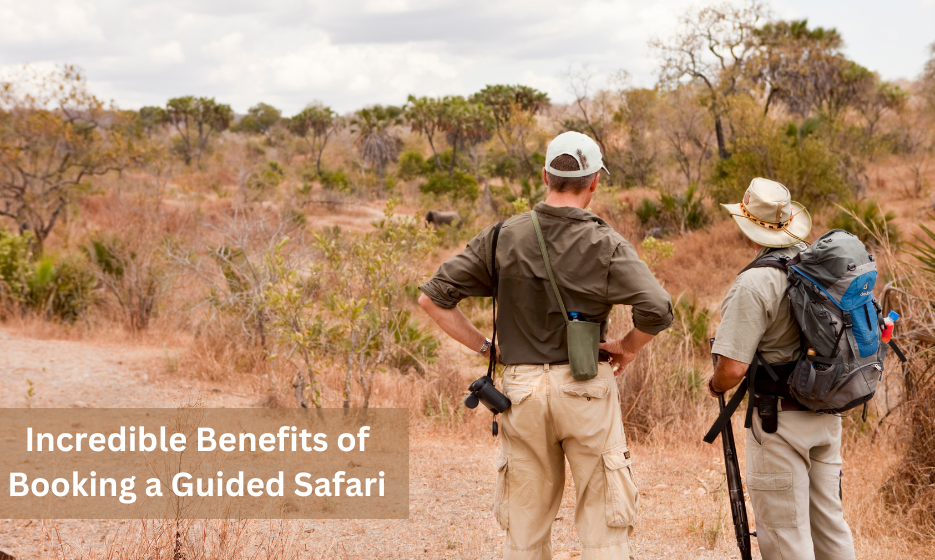 8 Incredible Benefits That You Get Only on Booking a Guided Safari
Booking a guided safari one thing you absolutely must have while venturing into the wonderful, wild, and thrilling Jim Corbett safari is an experienced friend who can securely advise you on how to have the trip of a lifetime. An excellent tour guide improves more than just the travellers' experience. However, they are also in charge of ensuring that the trip has a beneficial impact on the destination and as little negative impact as possible.
A safari vacation requires a knowledgeable native guide with in-depth knowledge of flora and fauna acquired through a lifetime of experience, unlike other vacations that can be experienced solo or with an escort from your home country.
Here are the top 8 benefits to know before booking a guided safari:
1. Training and qualifications of professional safari guides
Although having knowledgeable and educated tour guides does not constitute a necessary feature of a competent tour guide, it certainly offers value. Tour guides for Jim Corbett safari booking are professionally trained when they have received official training and/or a licence. They have the capacity to plan and manage a trip in accordance with established procedures. We are aware that a great tour guide is essential to delivering an exceptional vacation experience."
2. Value of local knowledge and the insights that guides can provide about the park and its wildlife
Finding trustworthy tour guides is difficult, but once you do, they are invaluable. Spend time or money hiring trustworthy partners or hiring a guide yourself. Taking good care of your guides will help your company and increase your long-term profitability.
Committed and delighted tour guides go above and above beyond in order to provide your guests the trip of a lifetime. If done well, this generates happy and hopefully loyal customers.
3. Safety and security benefits of having a guide who is familiar with the park and its rules
We believe that if the only advantage of a Jim Corbett safari booking was safety, it would be reason enough for us to be extremely skilled tour guides! From your arrival to your departure, a tour guide looks after you.
It's important to note that tour leaders should be locals. The fact that only locals can genuinely know the dos and don'ts of their society and settings to keep you safe is one of the reasons for this, though there are undoubtedly other factors as well. Additionally, tour guides make sure you don't do any "small things" incorrectly, like wear sandals on a day when you should be wearing closed-toed, sturdy shoes.
4. Convenience of having a guide handle logistics such as transportation and meal arrangements
Travellers who must wait on their tour guide because they are running late are frequently under stress. And they might not be happy with how their trip got off to a bad start. Therefore, it's crucial that the guide adhere to the predetermined schedule, be consistently on time, and have a clear framework. If the client requests a change, it might be possible, but only if it is practical and well-planned.
5. Opportunity to ask questions and learn more about the park and its wildlife from a knowledgeable guide
Local expertise is what gives a good tour guide their true added value. When visiting a place, tourists are curious about things like local customs, exotic fruits, and historical information. They always start by reading the handbook for more details and historical context. The tour guide should ideally be knowledgeable about the area and enthusiastic about it. All of your inquiries will be answered by a competent guide. A great tour guide will also be able to acknowledge when they don't know the answer to a question; they will then be able to perform the necessary research and get back to you later that day or before you leave.
It doesn't matter if you take a guided small-group safari, book a cheap campsite, or shell out big bucks for a fancy lodge. The calibre of your safari guide is the factor that will have the greatest impact on the overall quality and happiness of your safari. Without a question, the most important component of the overall safari experience is the safari guide. You'll have an incredible safari. If you have the appropriate guide, it doesn't matter about the wildlife, the climate, or the resort.
6. Benefits of booking a guided safari for families, including educational opportunities for children
A skilled safari guide will know how to engage kids of any age by learning what interests them, asking questions, and holding the occasional pop quiz on interesting animal information. Bringing young children on safari can be challenging. If everything else fails, guides are aware that children of a certain age enjoy looking at animal waste, and there is enough of that available.
What are the finest ways to benefit from a Jim Corbett safari booking who is actually exceptional? With a guided stroll, exit the Jeep and enter the wilderness. Walking and canoeing safaris allow you to experience the bush with all of your senses engaged, providing an intimate and enlightening experience, with the help of local guides and skilled trackers.
Also Read: Everything You Need to Make Your Trip Comfortable at Jim Corbett National park
7. Impact of a guide's personality and style on the overall safari experience
What occurs when circumstances simply don't work out? when it's raining heavily or when you can't find any of the large, famous animals? At that point, a fantastic safari guide truly makes a world of difference. They'll change their approach and concentrate on the little things, such as termites, birdlife, chameleons, dung beetles, and how trees alert elephants when it's time to stop browsing. When the famous faces miss their cue, the guides can keep the bush exciting.
It's frequently the responsibility of the guide to keep the discussion going, whether it's over dinner or during sundowners (unless, of course, it's obvious that everyone is content staring off into the bush and relishing the silence). Based on the personalities, ages, cultures, nations, etc. of the visitors, an expert guide will also be sensitive to knowing which themes to pursue. It is the guide's responsibility to deftly veer the topic away from politics if it becomes apparent that any of the guests are uncomfortable when politics are brought up.
8. Importance of booking with a reputable safari company that employs trained and experienced guides
Like a great host or anyone in the hospitality industry, a smart guide in Jim Corbett safari booking will be able to read their guest and react accordingly.
For instance, a guide will know not to overwhelm a tourist on their first drive if they are weary from a long journey and to instead ease them into bush life. In the same way that a guide should make frightened guests feel at ease, the most crucial factor in achieving this goal is communication. The top tour operators make sure they are aware of what their clients want from the trip, whether they are eager to see their first lions, enthralled by the smaller animals, or enthusiastic birders.
Having a guide who has a good read on people also has the benefit of minimising potential conflict between visitors. You never know who you'll end up with on a safari or at a communal table, and occasionally, personalities clash. The purpose of guides is to rapidly diffuse unpleasant situations before they arise and, if required, to subtly limit the amount of interaction that guests make with one another.
Also Read: Why Is Dhikala The Most Attractive In The Entire Corbett Park?
Conclusion
Guides must possess excellent expertise and have fulfilled a stringent set of requirements through study and experience in order to be hired by a reputable Jim Corbett safari booking. They will be fully aware of the indicators to look for while participating in game viewing activities because they have extensive knowledge of the terrain and wildlife behaviour in their local park(s). Even the most perceptive tourists are taken aback when they see the animals these guides find hidden so well!