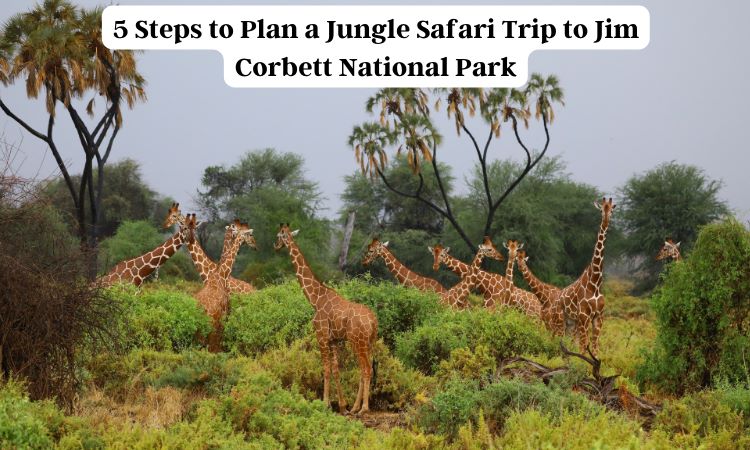 5 Steps to Plan a Jungle Safari Trip to Jim Corbett National Park
Jim Corbett Tiger Reserve National Park is a natural gift on earth. Each Indian should feel proud of the fact that such a place exists in their territory. The Corbett National Park is India's first reserve park. It was founded in 1936. Since then only, it has been entertaining the world of tourism and wildlife enthusiasts. The park is located at the base of the Himalayas near Nainital.
The Jim Corbett National Park is famous for its open environment for wild animals. Here you can see the Royal Bengal Tigers in their natural habitat. The Indian government maintains the park greatly and as a result, it has become one of the best reserve parks. Not only has it attracted the common people but also celebrities and filmmakers. Corbett Park has been a centre of quality places for shooting films. 
Although visiting the Jim Corbett in your holidays is not a tough task. You can easily plan according to your schedule. But if you are not aware of activities and good places in the Jim Corbett, we can help you by suggesting some of the most useful tips for your jungle safari trip. 
Thus I request you to give your attention to this blog. Read the blog completely to get an easy plan for your Jim Corbett trip.
The Jim Corbett National Park Information:
The Jim Corbett is a national reserve park in the valley of the Himalayas. It is situated between Nainital and Pauri Garhwal districts. Overall it is an open area for wildlife animals of 1300 SQ km. The Government has divided this park into two areas. The first is Core Area and another is Buffer Area. The total area of the Core area and Buffer Area is 520 SQ Km and 797.72 SQ km respectively.
The Jim Corbett is a heavenly home for wildlife animals. Here you will see Royal Bengal Tigers, wild elephants, bears, deer, leopards, boars, mahseer fishes, and 580 species of birds. The park is home to 488 flora species and more than 80 fauna species other than 580 types of birds.
Zones in Jim Corbett:
Jim Corbett National park has opened 6 different Zones for tourism. Each zone has some unique, beautiful, and mesmerising elements for giving you a lifetime memory. Note that 5 Zones are in the park and one is outside the park. These Zones are as below. 
Dhikala Zon
eJhirna Zone
Dhela Zone
Bijrani Zone
Durga Devi Zone
Sitabani Zone
Among the above, Dhikala Zone is the most famous and most visited. Sitabani Zone is outside of the park.
Activities You Can Do in Jim Corbett:
Jeep Safari
Canter Safari
Trekking
Bird Watching
Fishing & Angling
Wildlife Photography
Ecotourism
Adventure Sports You Can Be a Part Of:
Mountain Biking
Rappelling
Rock Climbing
Bridge Slithering
River Rafting
We have discussed some of the basic information about Jim Corbett. If you want to know about the buffer area zones, read our Beginner Guide to Jim Corbett's blog. Now let's set up your plan for a great Jim Corbett tour.
1. Book Your Train/Bus Tickets:
Jim Corbett is a famous place for tourism. So you don't need to worry about the roadways and trainways at all. The park is situated in the valley of the Himalayas in Nainital in Uttarakhand. A small city Ramnagar is only 12-15 km away from Jim Corbett National Park. This is your first destination. Ramnagar has a broad connection with the country's big cities. Also, the Ramnagar railway tracks also help you to connect with the major railway stations of the country. Here is how you can reach Jim Corbett National Park via both ways.
By Train:
To reach Jim Corbett National Park you must first reach Ramnagar railway station. This station is connected to the country's big railway stations. You can easily find a train to reach Delhi, Lucknow, and Bareilly. You can also travel to Kathgodam. It is 3 hours away from Ramnagar station. This station is larger than Ramnagar and the city has more connectivity with other railway stations.
You can catch the direct train from Delhi to Ramnagar. Two direct trains, Ranikhet Express and Uttar Sampark Kranti Express are available directly from Delhi.
By Road:
Jim Corbett is well connected to the major cities of the country such as Delhi, Lucknow, Nainital, Bareilly, Moradabad, etc. You can also catch direct buses from Delhi at Anand Vihar ISBT to directly reach Corbett.
The Agra-Lucknow Expressway is the shortest distance between Jim Corbett and Delhi. People travelling from Bareilly can take NH530 to reach Corbett National Park. People coming from Moradabad can take NH309 and Moradabad-Kashipur road.
People from Nainital, Almora, Haldwani, Ranikhet, and Kausani can take state buses to reach the Ramnagar bus stand. From there you can hire a three-wheeler to reach Jim Corbett.
2. Book Your Hotel in jim corbett:
Being an always trendy tourist place, Jim Corbett and nearby areas have numerous hotels around. You can find all categories of hotels here from budget to luxurious. The accommodations around the park and even in the park are modern and all-equipped. You will never run out of good options at this place.
You can also book your room in the Jim Corbett rest house which is inside the park itself. To stay in the park restroom, you must book this in advance. All the jungle camps are also available in different categories. You can choose as per your need & comfort.
The best forest rest house in Dhikala Zone. You will also come across some of the best family hotels especially great for kids. Bijrani Zone and Jhirna Zone offer you forest lodges in the Jim Corbett National Park. 
3. Book Your Jungle Safari:
If you are not thinking about watching the wildlife by being a part of it then why are you going there? A jungle safari is a must for all tourists. I am not saying that someone will pressurise to do that but you will miss a chance to witness the majestic nature.
There are three safaris available at Jim Corbett. 1. Jeep Safari 2. Canter Safari 3. Elephant Safari. However, the Government has banned the elephant safari as they consider it animal cruelty.
Best Zones for Jungle Safari:
Jim Corbett is divided into two areas. 1. Core Area and 2. Buffer Area. The buffer area is further divided into five zones. These five zones are open for tourism. You can enjoy your sightseeing at the following zones.
Dhikala Zone
Jhirna Zone
Bijrani Zone
Dhela Zone
DurgaDevi Zone
Sitabani Zone
Sitabani Zone is outside the park but is very near the park. Thus you can go to this zone also to give another natural shot on your trip. Dhikala and Bijrani zones are the most famous for tiger sightings. These two are the attraction centres of tourism. Only the Jhirna zone remains open throughout the year. Other zones don't allow tourists in the monsoon season from June to September.
The Sitabani zone is the best natural beauty. It's peaceful and calm. You will see several water bodies created by two rivers. You will also get to see the famous Mahseer fish in the river.
You can enjoy the jeep safari and canter safari here. A jeep can accommodate 6 adults whereas a canter can accommodate 16 people together. Note that only the Dhikala zone offers you a canter safari. Jeep safari is available at all safari zones. You can choose a Jeep safari as per your interest in sight. Bird watching takes more time and slow driving while tiger sighting can be fast. 
Safari Timing:
Safari is available in the morning and evening time. Most people choose the morning session as it is easier to see the wildlife at that time. The daytime makes it easy to see the birds chirping and flying. You can also see some tigers clearly in the daytime. Evening time is also not bad. The activities will be lesser but you will surely see some great sightings of birds, bears, deer, and tigers. Each safari is for 3 hours. See the chart below to understand better.
Jeep Safari Zone Timing:
| | | |
| --- | --- | --- |
| Safari Zones | Morning Safari Zones | Evening Safari Zones |
| Bijrani Zone | 06:30 AM- 10:00 AM | 1:30 PM to 05:30 PM |
| Jhirna Zone | 06:30 AM- 10:00 AM | 1:30 PM to 05:30 PM |
| Durgadevi Zone | 06:30 AM- 10:00 AM | 1:30 PM to 05:30 PM |
| Dhikala Zone | 06:30 AM- 10:00 AM | 1:30 PM to 05:30 PM |
| Dhela Zone | 06:30 AM- 10:00 AM | 1:30 PM to 05:30 PM |
Canter Safari Zone Timing:
| | | |
| --- | --- | --- |
| Summer Season | 05:30 AM to 11:30 AM | 12:30 PM to 06:30 PM |
| Winter Season | 06:00 AM to 12:00 AM | 12:00 PM to 05:30 PM |
4. Add a Few Additional Activities:
Safaris are not the only activity you can enjoy on your Jim Corbett trip. There are plenty of other exciting activities too. To fully enjoy your tour, you must look at them also. Following are the other activities that you can go for.
The Koshi River allows you to enjoy river rafting. But you can do it only in a particular season. The Koshi river flows through the boundary of the park. On this river, you can also become a part of sports activities such as Bridge Slithering and River Crossing.
The hills of Uttarakhand offer you to enjoy mountain biking, rock climbing, rappelling, etc.
In the Koshi River water bodies, you can go for some recreational activities such as fishing and angling.
Last but not the least, the Uttarakhand hills have many beautiful places to make your trip a lifetime memory. You can travel to Garjia Temple, Jim Corbett Museum, Corbett Falls, and other places nearby.
5. Choose the Right Travel Agent:
Last but the most important is to select the right travel agent for your trip. You don't need it if you are a good planner and have plenty of time. But if you think that you can't manage this much of a to-do list, you must hire a good travel agent who will lead your trip in such a way that it will be majestic for you.
Conclusion:
Now I think you all are well aware of Jim Corbett National Park and its schedule. As I have mentioned above, you can choose hotels, safari, and other activities as per your desires and comfort. So what are you thinking of? Get your tickets book now.