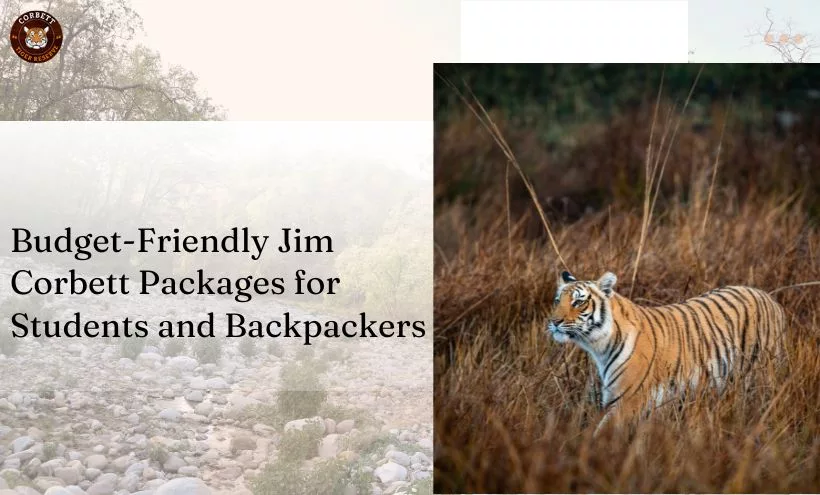 Best Budget-Friendly Jim Corbett Packages for Students and Backpackers
Jim Corbett National Park, or Corbett Tiger Reserve, located in the Nainital district of the state of Uttarakhand, is one of India's most prominent national parks. It is well-known for its diverse plant and animal life, specifically the presence of majestic Bengal tigers.
Jim Corbett National Park is a wonderful option for students and even backpackers on a tight budget since it offers a unique as well as thrilling wildlife experience at an affordable price. The park offers multiple adventure activities such as jeep safaris, bird watching, as well as trekking, and it is a good place to see wildlife in its native habitat.
Also, the park offers multiple affordable accommodation options, which includes dormitories, camping grounds, and also guesthouses, allowing it effortless for students as well as backpackers to plan their holiday without breaking financially.
Types of Budget-Friendly Jim Corbett Packages
For college students and even backpackers who want to see the park's natural beauty and animals, there are a number of reasonable packages available. If you're willing to have a Jim Corbett Package, then, here are a few examples of the various kinds of affordable package options:
Jungle Safari Packages: With these packages, guests are able to charter a Jeep or Canter on a guided safari trip to the national park where they can see tigers, elephants, leopards, along with other animals. These packages might be altered to fit the visitor's desires, preferences, as well as time constraints.
Accomodation: Corbett Tiger Reserve offers several types of inexpensive lodging choices, including homestays, hotels, even campgrounds. These deals can be customized to the visitor's preferences and requirements and often include hotel and food.
Activity Package: Rock climbing, river rafting, rappelling, and trekking are among the adventurous sports available in Corbett Tiger Reserve. The price of the activity is included in these packages, which might be altered to fit the visitor's preferences and budget.
Sightseeing Packages: A visit to the park's well-known tourist attractions, including the Corbett Museum, Garjia Temple, and Corbett Waterfall, is offered in these sightseeing packages. These packages can be altered to fit the visitor's needs, preferences, and time constraints.
Combination Packages: These packages combine many low-cost package options to provide tourists with a thorough understanding of Corbett Tiger Reserve. Depending on the visitor's choices and budget, a combo package can, for instance, include a jungle safari, lodging, and an activity package.
Accommodation Options
Dhikala Forest Lodge
The Dhikala Forest Lodge is a well-liked lodging choice inside Jim Corbett National Park. The lodge has a canteen that provides vegetarian food and basic rooms with attached toilets. Photographers and nature enthusiasts will love the spot. The starting price is INR 2500 for each individual per night.
Addtionally, there are many guest houses and resorts available as well. The settlements near Jim Corbett National Park provide a variety of guesthouses and homestays. Typically, these options are less expensive than the hotels and lodges located inside the park. Depending on the amenities and location, prices per person per night might range from INR 500 to INR 1500.
Budget Hotels and Resorts
The surrounding cities of Ramnagar and Nainital provide a variety of inexpensive hotels and resorts. These choices include affordable basic comforts, including tidy rooms, hot water, and meals. Prices per person per night might range from INR 3000 to INR 6500.
Furthermore, you could also avail the facility of campgrounds here. Jim Corbett National Park contains a number of campgrounds that provide an affordable place to stay amidst the outdoors. These campgrounds often provide tents or cottages with minimal amenities like meals and clean bathrooms. Prices per person per night could range from INR 1000 to INR 3000.
Activity Options
Jungle Safari: A jungle safari is the finest way to visit Jim Corbett National Park. Visitors have a choice of two safari types, vehicle safaris and elephant safaris. Jeep safaris are more common and less expensive, but elephant safaris are more luxurious but also more expensive.
Nature Walks: To explore the park's biodiversity up close, the park provides guided nature walks through the forest. Budget-friendly and adaptable to tourists' interests, nature walks are the perfect way to go outside.
Bird Watching: Over 600 different bird species could be found in Jim Corbett National Park, making it a haven for bird lovers. Visitors have a choice between self-guided park tours and guided bird watching tours. As a budget-friendly activity, bird watching encourages people to bring their own binoculars.
The least expensive activities at Jim Corbett National Park are nature hikes and bird-watching tours. However, joining a larger party or making reservations out of season might lower the cost of jungle safaris. Get the most recent prices and details by visiting our website; Corbett Tiger Reserve.
Food and Beverage Options
Pindi Restaurant: Pindi Restaurant is a well-liked option for both locals and visitors and is situated on the Ramnagar-Kalagarh Road. They offer affordable North Indian food in a variety of dishes.
HIghway Masala: Highway Masala is a restaurant that serves a variety of Indian, Chinese, and continental cuisines. It is situated on NH 309A. For those who want to sample a variety of cuisine, they also offer a buffet option.
Corbett Jungle Cub Resort: The restaurant of the Corbett Jungle Club Resort offers a variety of foods, including Chinese, South and North Indian cuisines. Also, they have a coffee shop where they sell beverages and other snacks.
Moti Mahal Deluxe: On the Ramnagar-Kalagarh Road lies a restaurant called Moti Mahal Delux, which is renowned for its mouthwatering tandoori fare. Also, a selection of vegetarian and non-veg dishes.
Some Affordable Meal Options
Dal Makhani with Roti: This classic North Indian dish, Dal Makhani, goes well with rice or roti and is satisfying as well as hearty. It is prepared using black lentils, kidney beans, and cream and is usually eaten with rice or roti (Indian bread).
Aloo Paratha: Aloo paratha is an easy-to-make meal that tastes fantastic for breakfast or lunch. Usually served with curd or chutney, it serves as a whole-wheat flatbread packed with spicy potatoes.
Fried Rice: Chinese fried rice is a quick and simple dish to cook. With soy sauce and other seasonings, it's created with cooked rice, vegetables, and eggs.
Manchurian: Another Chinese cuisine that is very popular in India is vegetarian manchurian. It is made with deep-fried vegetable balls that are then dipped in a hot gravy.
Tips for Saving Money
Book in Advance: Consider your alternatives for accommodations in advance. Find cheap hotels, homestays, or hostels that have nice amenities and reasonable rates.
Avoid To Dine Out: instead, make your own food. So that you can prepare meals and boil water for tea or coffee, pack some snacks and a small portable burner or electric kettle.
Choose a Package Deal: Consider purchasing an activity package. Several tour companies provide packages for pursuits including rainforest excursions, bird viewing, and hiking. Choose a bundle that meets your budget.
Use Public Transport Instead: Utilize shared or public transportation, such as buses or taxis, as hiring a private taxi may prove costly.
Conclusion
The top Corbett Tiger Reserve deals for college students and travelers have been discussed. Additionally, many Jim Corbett packages with reasonable lodging and safari possibilities are available here at Corbett Tiger Reserve. We made an effort to persuade readers to take advantage of these affordable packages and plan a vacation to Jim Corbett National Park for a once-in-a-lifetime adventure. Book today to take advantage of nature's splendor without breaking the bank.