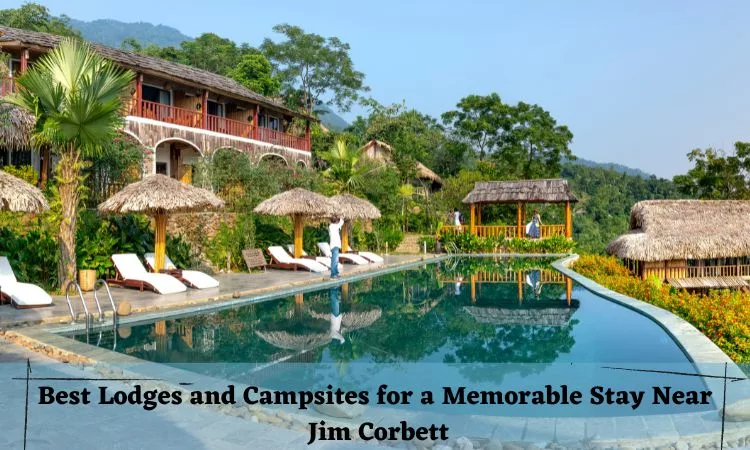 7 Best Lodges and Campsites for a Memorable Stay Near Jim Corbett National Park
Looking for Jim Corbett National Park hotels is no more difficult task now. Finding the ideal lodging is crucial for a memorable experience if you're thinking about visiting Jim Corbett National Park. Near the park, there are many inns and campgrounds that provide cozy lodgings as well as fun activities for guests. We'll look at some of the top campgrounds and hotels in the area in this article, so you can choose the one that best meets your requirements.
There is something for everyone, from opulent hotels with all the latest modern amenities to basic campsites that provide even more genuine wilderness knowledge and expertise. While some lodges and campsites are tucked away in the forest, others can be discovered on the park's periphery.
1. Aura Resort
The Aura Corbett Resort is a luxurious resort in the center of the woods. It is perfect for nature lovers, who wish to experience the wilderness with elegance. The resort has 64 well-appointed rooms with all of the modern facilities you would expect from a luxury resort. The apartments are big and nicely equipped, with beautiful views of the surrounding bush.
The resort's restaurant serves delectable Indian and foreign fare. There is also a bar where you can sip your favorite beverage while appreciating the natural beauty of the jungle. Nature hikes, bird viewing, jungle safaris, and other activities are available at the resort. You might also refresh your body and spirit at the resort's spa.
2. Jim's Jungle Retreat
An opulent eco-resort called Jim's Jungle Retreat is located on the southern edge of India's Jim Corbett National Park. The retreat is situated on 15 acres of verdant forest land and provides a distinctive fusion of wildlife encounters, opulent lodging, and eco-friendly travel strategies. There are 18 cottages plus villas at the resort, each with a classic interior and contemporary conveniences.
The lodgings are tucked away in the bush, providing a true jungle experience plus wonderful views of the environs.The retreat includes a library, a spa, a swimming pool, and a restaurant serving a variety of cuisines. The resort's experienced naturalists organize a variety of outdoor activities for guests to participate in, as nature walks, bird viewing, jungle safaris, including elephant rides.
3. The Wild Rendezvous
A luxurious hotel called The Wild Rendezvous is situated right in the middle of Corbett Tiger Reserve. For nature lovers, adventure seekers, and wildlife aficionados, the resort offers a unique and genuine ecological experience. The resort possesses spectacular views of the jungle and is surrounded by lush greenery.
A variety of activities are available at The Wild Rendezvous, including cultural programs, nature walks, jungle safaris, and bird viewing. The resort also features a restaurant offering delectable Indian as well as foreign cuisine, a swimming pool, and a spa. The Wild Rendezvous offers luxury tents, cottages, plus villas as lodging alternatives. All of the accommodations provide a peaceful stay in the midst of nature while offering contemporary comforts.
4. The Den Corbett Resort
The Jim Corbett National Park in Uttarakhand, India, is home to the opulent jungle lodge known as The Den Corbett Lodge. The resort, which spans 13 acres of land, offers the perfect combination of contemporary conveniences and traditional jungle living.The resort features 50 roomy, beautiful cottages that are equipped to give visitors the maximum convenience and privacy available. The latest amenities including Wi-Fi, a minibar, plus air conditioning are provided in every cottage.
Lots of dining options will also be available at the resort, including a restaurant with multiple cuisines including a poolside bar. Additionally, visitors have the opportunity to take part in a range of activities including fishing, jungle safaris, exploring the outdoors, as well as bird watching. The resort features a lovely pool as well as a spa with a wide range of therapeutic treatments.
5. Camp Kyari
Camp Kyari is a lovely and simple eco-friendly jungle camp in Uttarakhand, India, at the base of the Himalayas. Visitors can enjoy spectacular views of the Kosi River and the forested hills from this position, which is near the southern edge of Jim Corbett National Park.
The camp offers cozy, spacious canvas tents with all the necessities, such as private bathing facilities, comfortable beds and solar-powered lights. Finally, visitors are encouraged to participate in adventure activities such as bonfires, nature trails, especially jungle hikes. Furthermore, the camp offers a variety of adventurous activities such as rappelling, mountain climbing, and river crossing.
6. Corbett Leela Vilas
The Corbett Tiger Reserve Park, one of India's most well-known wildlife sites, is home to the opulent Corbett Leela Vilas resort. The resort is the best spot to visit for those who enjoy the outdoors and wildlife because it offers the appropriate balance of luxury as well as wilderness.
The resort offers large, luxurious villas, suites, and accommodations that are furnished with contemporary conveniences including air conditioning, flat-screen TVs, plus minibars. An elegant design was implemented to create the lodgings while simultaneously considering the comfort of the visitors as well as the surrounding environment.
7. Corbett Holiday Forest Resort
Corbett Holiday Forest is a prominent resort in Uttarakhand, near Corbett National Park. It is located near the Ramnagar district and provides guests with a peaceful and calming environment encircled by nature.
The resort offers pleasant lodging options such as deluxe rooms, cottages, and suites, all of which have been outfitted with modern conveniences such as air conditioning, satellite TV, and WiFi. The apartments are elegantly designed and offer incredible views of the adjacent forest as well as hills. The resort further provides a multi-cuisine restaurant that serves delectable meals, including traditional local fare. Outdoor activities such as jungle safaris, nature walks, bird watching, and trekking are readily accessible to guests.
Conclusion
It has plenty of hotels and campsites surrounding Jim Corbett National Park, offering an unforgettable experience. There's something for every style of traveler, from elegant lodges with top-notch services to primitive campsites where you can get in touch with nature. Assess your budget, preferred degree of comfort, and closeness to the park while deciding on the ideal Jim Corbett National Park hotels. You can make your stay at Jim Corbett National Park a fantastic one by making the right decision.